In the late 90's and early 2000's my man Dan Nakamura was killing it consistently. Consider the evidence, Dr. Octagon, Bombay the Hard Way (with Shadow), Handsome Boy Modeling School, Deltron 3030, Gorillaz, and lastly, Lovage. If you haven't heard of Lovage, then consider a fine cognac blended with hot chicks, hairy chests (not on the chicks) and a toothbrush (always brush yo breath.) Jennifer Charles of
Elysian Fields
fame,
Mike Patton
(of Faith No More, Mr. Bungle, etc) Dan "the Automator" and Kid Koala. Now, I'm not a huge (or even small) Mike Patton fan. I can respect his vocal talent I guess, but the sound of it makes me want to
immediately kick someone in the face. But Jennifer Charles… Ooowee. Yum a dum-dum. Her voice over big heavy beats leads to instant copulation, regardless of company or circumstance. The whole record is a novelty but it's creatively charged and something that doesn't play out after 2 or 3 listens. I recommend turning off all the lights, lighting a scented candle, stripping down to your underwear and slathering yourself in Vaseline before turning this on. I've found it just sounds better that way.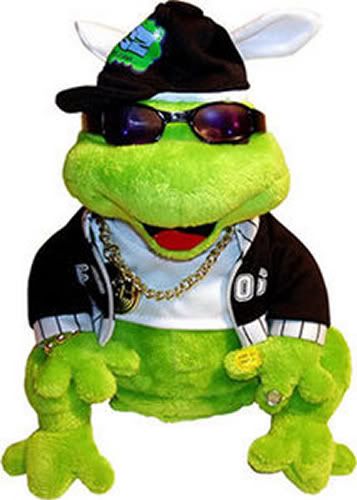 Second up is a Kid Koala project,
Bullfrog
. These guys are from Montreal and have a slightly rotating membership. I saw them in 2001 with Blurum13 (now doing groovy goodness with
Oneself
) and really enjoyed myself. Its funky grooves made by a tight band that certainly isn't earth shattering but is really fun and good vibey and the songs are simple yet good. Kid Koala comes off as more of a band member than a dude who does a scratch solo in the middle of each song. Aiight, I'm out.
Pace
01. Ladies Love Chest Rockwell
02. Pit Stop (Take Me Home)
03. Anger Managment
04. Everyone Has A Summer
05. To Catch A Thief
06. Lies And Alibis
07. Herbs, Good Hygiene & Socks
08. Book Of The Month
09. Lifeboat
10. Strangers On A Train
11. Lovage (Love That Lovage, Baby)
12. Sex (I'm A)
13. Koala's Lament
14. Tea Time With Maseo
15. Stroker Ace
16. Archie & Veronica

01. Hello
02. Ya Ya
03. Ababa
04. Reverse Psychology
05. Massimo's Wild Wilderness
06. Bullfrog Theme (re-recording)
07. Shine
08. Extra Track II
09. Snakeskin
10. ''Live'' Somewhere
11. Slow Down
12. ''Live'' Somewhere Else
13. Hotel Food
14. Nice Try
15. Alright: Music For More Morning People
16. Jessica Ends
17. Mark After Dark