01 - Keith Murray - The Most Beautifullest Thing In This World
The "big words" M.C. who decided that the established 1,000,000 or so words that make up the greatest and most original language in the world wasn't enough, so he started making up his own. I'm not sure of the lesser of the two evils between making up words or botching the spelling (see BRID as spelled by Kevin Madison) but both he an Solo were from the same click so maybe that's how they keeps it real. He also uses that "Between the Sheets" sample which makes all things sexier and better.
02 - Keith Sweat - I Want Her
I remember distinctly hearing the hook for this song in my parent's living room while listening to 90.3 out of Rhode Island State University. It wasn't rap but the hook was undeniable and the seeds of New Jack Swing were planted in mine ear. It was just one of those moments in musical history that is crystal clear for me. For some people it was Woodstock. Others it was Live Aid. Others it was Britney's comeback performance. Either way, it stood out for me is all I'm saying.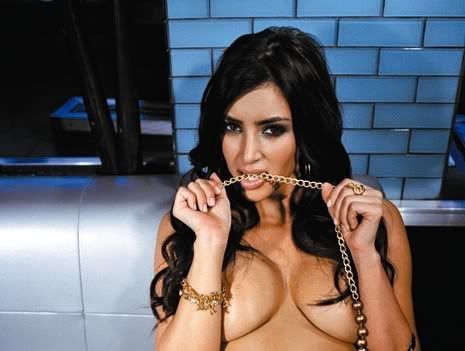 03 - Kenna - Sunday After You
Who Said the Neptunes only had one dude worth while? The Yin of Pharells Yang, my man Chad produced this recorded and never once sang falsetto or rapped in it. Kenna recorded this record in 2001 for Fred Durst's Flawless label and it was shelved for two years. When it finally did come out, Durst decided to spend all of the money and effort on Puddle of Mudd and my Ethiopian-born homey got shat upon again. He has a pretty interesting and unique sound and he has a new record coming out soon,so check for it.
04 - Kid 'n Play - Gittin' Funky
You may front now but Kid and Play were pretty dope when they first came out with this one. I honestly didn't know about them when "Last Night" and "Do This My Way" dropped but this song was dope and they were good dancers and there was a time, you glorious bad ass and boring at clubs wall flowers, when dancing was cool and didn't make you gay. I actually was doing the Kick Step one night with my homeboy and he head butted me so hard in the face that it corrected the gap between my teeth. Dancing changes lives. True story.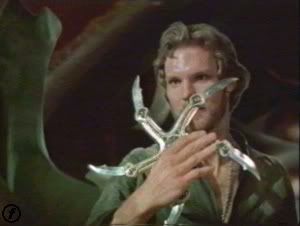 05 - King Sun - The Gods Are Taking Heads (Feat. Poor Righteous Teachers)
The kindness and open arms of the 5 percent nation are quirkily rapped over beats made out of bubblegum and rainbows.
06 - King Tee - Played Like A Piano

Before the Liks and working with Marley, Tee had West Coast supah producah, DJ Pooh to make Act A Fool.
Played Like A Piano used one of my favorite, ill and never boring piano loops and King Tee and guest stars, Ice Cube and Breeze made a delicious piece of vinyl.
07 - The Kings of Convenience - I Don't Know What I Can Save You From (Royksopp Remix)
Fjords and Indie-Folk. That's what I think of when I think of Norway. These cats made no noise at all in the States but apparently were pretty big in Europe. This is from their remix album from their debut which was pretty good if you like music to take naps to. Which I do. So, yeah.
08 - Kings Of Leon - Holy Roller Novocaine
I first liked this song because I thought it started with the lyric, "My Darling you l
ook ugly, I've come to lay you down." And any song about intercourse with facially deficient individuals always intrigues me. Unfortunately, it was not so and the woman in the song is "lovely" not "ugly." The band made a pretty solid debut and a better follow up. It's the kind of southern rock that owns your ass.
09 - Kings Of Swing - Nod Your Head To This
After the first Audio Two and MC Lyte records I was down with anything the First Priority family had to offer. I thought the whole Kings of Swing record was average but there were moments, like on "Nod Your Head To This" when they shined.
10 - KMD – Plumskinzz
B-Side to Nitty Gritty and news to me until 3 months ago when I read about it on …And It's Still All Good blog, where are you Animal Mother? A pretty dope track that I assume a lot of people don't know about.
This just in the bitch is back! I'm assuming the "animal" half of the alias is, in this case a dog and therefore, I mean "bitch" in a biologically correct sense and not in a derogatory or misogynistic way.
11 - Komeda - More Is More
Once again the Swede's prove they produce more than Roxette and neutrality. Started in 91, Kome
da has 6-ish records (read: 4 domestic) and are known for making guitar and synth laden experimental indie rock. This track is much less synth-ish but the chicks voice is dope. She sings in English which means she loves America and George W. and it's just a really hot track according to me and my fickle fancies.
12 - Kool G Rap & DJ Polo - Men At Work
I remember hearing this song for the first time on a radio tape I had made the Saturday before going back to boarding school off of WRIU with Kurty Kut. 401 Reprazent!! I mean, where do I even begin with G Rap? I was going to put Truly Yours up first because we all know how much of a sloppy whore I am for a good story, but the way this motherfucker rips the mic on this track was kind of indescribable when I heard it for the first time. I just kind of sat and looked into space with my jaw slightly open. Its passé now but when the shit came out he was the thirstiest MC I'd ever heard.
13 - Kool Moe Dee - How Ya Like Me Now
"All aboard." I still kick this entire song much to my wife's chagrin. She's new school. But enough about her and her fine ass, Kool Moe Dee was just a bad ass dude. The glasses. The Kangol. The leather suits. The cowboy boots. Plus, that X-mas joint in Beat Street is another one of those songs I know verbatim. Unfortunately LL released Jack the Ripper and kind of slayed h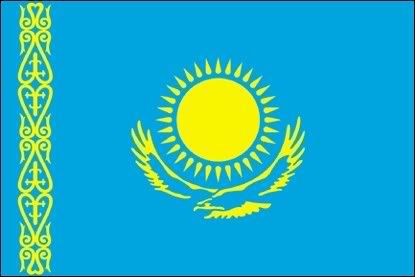 im battle wise but he was still a pioneer of battles. Gotta respect that. This just in…. I saw him on the VH1 honors show and didn't recognize him. Now, I'm older too and fatter but good god man. My wife thought he was Cee-Lo Green. Still love him though.
14 - Kosheen - Hide U
Don't know a lot about this crew. It's a Drum & Bass trio from Bristol and the rest of the album is pretty good but this track was always a favorite of mine. I hope you like it. And I hope when you listen to it you imagine me sitting next to you and holding your hand.
Naked.
Covered in Vaseline.
Eating kettle corn.
15 - Kruder & Dorfmeister - Deep Shit Pt. 1 And Pt. 2
Thank you Germany. You brought us Farfegnugen, Tiger Tanks and Kruder and
Dorfmeister. If you enjoy ganja or endless delays and filtered vocals then they are the dubbed out shit you have been questing for. They have spawned side solo projects like Tosca and Peace Orchestra, both of which are just as stupendous as their combined efforts... If you've never heard of them and want to try out some of their stuff, their DJ Kicks record or their K&D Sessions are great places to start, but it's all really well done.
16 - DJ Krush - A Whim
I found out about Krush when I found out about Shadow and bought an import that they had done together. Krush has done extensive works with other cats and is another one of those producers that make sample heavy works of art, in my opinion. I'm a big fan of breaks and fucking up a sample. I'm also a fan of finding shit that just works together. Anyone can sample a break a bass line and a horn riff and say they mad a track. Not every one can do it well. Most say they can however and that's just mean to the people that get fooled by it and then have to listen to 30 minutes of 80's R&B loops over shitty drum machines and soul-less programming. But I'm bitter.
17 - K-Solo – Spellbound
A great and classic track. I can't front. For a while I spelled a word or two in every rhyme I wrote. I mean if you're rhyming one syllable, it's the way to go I figured. Now, when you can't spell (BRID?) it's something you'll never live down. Thankfully
I was always a good speler.
18 - Kurious - Spell It With A J (Yes, Yes Jorge)
Thank you Beatnuts for making a slew of beats that are really dope. Thank you Kurious for making that mid 90's sound and doing it well. It doesn't hold up as well as some other things but he had a sense of humor which always gives you a longer line for me. The track was dope. The lyrics were acceptable. Tap a St Ides and pour a little out and listen.
19 - Kurtis Blow - The Breaks
Odd thing about Kurtis Blow, a German dude introduced me to him when he was an exchange student living in my house. We ended up going to the Fresh Fest in 84 and bombing all over Barrington RI. Anyway besides doing a lot of crack, he did have the first major label rap deal and paved the way so super stars like Nelly and Soulja Boy could tickle our ear drums and stirrups today.
20 - Kwame - Boy Genius
It's hard not to feel really gay listening to the last couple of Kwame records now. I thought A Day In The Life was bad ass but listened to it a couple months ago and somehow ended up masturbating to an episode of Oz. The fact is though; he was a pretty talented dude. He thought his shit out and was pretty good at it. He maintained a production career and I can't hate. His first album was on heavy rotation in a lot of households. I'm not sure why I'm still trying to prove he's dope and I'm not gay but I am so I'll stop.
Pace.
01 - Keith Murray - The Most Beautifullest Thing In This World
02 - Keith Sweat - I Want Her
03 - Kenna - Sunday After You
04 - Kid 'n Play - Gittin' Funky
05 - King Sun - The Gods Are Taking Heads (Feat. Poor Righteous Teachers)
06 - King Tee - Played Like A Piano
07 - The Kings of Convenience - I Don't Know What I Can Save You From (Royksopp Remix)
08 - Kings Of Leon - Holy Roller Novocaine
09 - Kings Of Swing - Nod Your Head To This
10 - KMD – Plumskinzz
11 - Komeda - More Is More
12 - Kool G Rap & DJ Polo - Men At Work
13 - Kool Moe Dee - How Ya Like Me Now
14 - Kosheen - Hide U
15 - Kruder & Dorfmeister - Deep Shit Pt. 1 And Pt. 2
16 - DJ Krush - A Whim
17 - K-Solo – Spellbound
18 - Kurious - Spell It With A J (Yes, Yes Jorge)
19 - Kurtis Blow - The Breaks
20 - Kwame - Boy Genius

Krush Groovinnnnn Body Movinnn