Happy environmentally concious blog action day!!
I'm not going to bore you with a long diatribe about the horrific state of the world today. If you don't recycle, at least somewhat, you're an idiot. If you don't
believe in global warming, you're an idiot. If you throw you McDonalds wrappers or cigarette buts out the window, you're an idoit. My one recommendation is switching to those energy pig tail light bulbs too. But make sure you get the "Warm Light" ones. They are also listed as burning at 2700K. Any higher and they get too flourescent and you feel like your working in that basement office in the beginning of Joe Versus The Volcanoe. The bulbs are more expensive initially but they last longer and cost less to use.
Now for music we got The Roots' Do This Well rarities and remix compilation. What's more organic and environmental than a root right?! This is a huge compilation of rarities and remixes (thus the name) Anyway, enjoy. I don't have much time to write but I didn't want
Alley Al
to ride me about not posting.
Pace.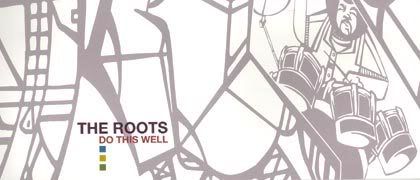 01. Proceed II (feat. Roy Ayers)
02. Worldwide (London Groove)
03. Silent Treatment (Black Thoughts 87 You And Yours Mix)
04. You Got Me (Me Tienes Remix)
05. It's All About You (Not About Me)
06. Distortion To Static (At Ease Mix)
07. Take It There (Remix) {Nonchalant}
08. Rafiki (Album Mix) {Zap Mama}
09. Silent Treatment (Da Beatminerz Mix)
10. Listen To This {Walking Large}
11. What You Want (Feat. Jaguar)
12. Proceed III (Feat. Bahamadia)
13. The Good, The Bad & The esolate
14. Distortion To Static (Freestyle Mix) Bonus 2002 Track
15. Break You Off (Original Version Feat. D'Angelo)
16. It's Comin'
17. Distortion To Static (Ques Jim Mix)
18. Proceed (Live At The Supper Club)
19. New Year's At Jay Dee's
20. What They Do (Live On Jenny McCarty)
21. Silent Treatment (Street Mix)
22. Da Jawn (Bahamadia)
23. Distortion To Static(Black Thought Mix)
24. Burnin' & Lootin' {Bob Marley}
25. Proceed II (Butcher Mix)
26. Still Out There
27. You Got Me (Live On David Letterman)
28. Sprite Commercial
29. Proceed IV (AJ Shine's W/O A Pause Mix)
30. The Lesson Part 2 (Instrumental)
31. The Show
32. Rafiki (Hard Mix) {Zap Mama}
33. The 'Notic (Feat. D'Angelo)
34. Distortion To Static (At Ease Microphone Check Mix)
35. Silent Treatment (Kelo's Mix)
36. Proceed II (Live On John Stewart)
37. Millie Pulled A Pistol On Santa
38. Listen To This (The Roots Remix)
39. Adrenaline (Live At Woodstock '99)
40. Distortion To Static (Bob Powe Bass Mix)
41. Silent Treatment (Questions Mix)
42. Y'all Know Who
43. Proceed V (Da Beatminerz Remix)
44. You Got Me (Original Version Feat.Jill Scott)
45. The Last Track