So since I've been working on a remix post and there have been lots of other remix posts in other blogs and my cover post is not completed, (don't bite bitches) I have decided to post a record that has a remix on it and is relevant to my life.
So I'm going down to Atlanta on Friday for a weekend of drunken debauchery. Stunts, blunts and hip-hop, knowhatimsayin!?!? Also, I used to live in Atlanta and worked at a
studio as an intern and engineer for a few years. So one day Lauryn Hill came there and this was when The Score started blowing up. Now I was one of the eight fools that bought the Boof-Baf record mostly because it had the word "blunted" in it and I thought that anything that alluded to smoking pot had to be good and was cool. Anyway, I see her at the studio and I was really digging their new record and had dug the "Nappy Headz" and "Vocab" singles so I'm like, "What was so different about those two records? It sounds like you guys had a great time making The Score." And she just looks at me thinking "White blood-clot raison" (I'm white by the way so it made some sense although the 'blood clot raison' part was just nasty and not very helpful) So there is an awkward silence and being sometimes a glutton for punishment I proceed, "I mean it almost sounds like two completely different groups." She rolls her eyes at this and responds "Not really" and walks away.
"Not really?! So you're saying that Blunted On Reality was up to par with The Score and "Boof-Baf" and "Ready Or Not" are equals you stank ass skeezer!?" I didn't actually say this but thought it really hard and gave her an evil look as she walked away. I then proceeded to tell all my friends that I had met Lauryn in the studio and basked in my celeb status.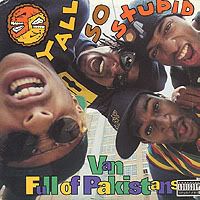 Anyway, another group that recorded there was Y'all So Stupid. They dropped Van Full of Pakistans in 93 and had a sense of humor, pretty dope lyrics, and decent production in a time where I feel that all three were beginning to dissolve out of hip-hop. Well maybe not production. Well even production insofar as originality. It kind of leveled off for a while for me. Anyway, these cats, H20 (dude from Mass Influence), Uncle Buk, Logic & Sha Boogie get together in the south and make a North East rap record that's pretyy fucking dope. A couple tracks were produced by Majesty from Da King & I fame (I should post that record too). They weren't ground breaking, but they went against the grade (there were pictures of them skateboarding in the jacket.) Sadly and oddly fittingly) they stole a bunch of equipment from the studio and got kind of blacklisted. It was a pretty prominent studio and they don't like when people take their shit. Who does?
So there are 14 tracks and 8 skits, the skits are funny enough and maybe I like them because they are doing crank calls and shit. It just sounds like a group of talented cats that got together and had a lot of fun putting together a really dope project. Check "Introduce Me" "Bootleg Beatdown" "The Plant". Really, it's not a hard record to like as long as you like juvenile humor mixed with dope beats and witty lyrics.
Aiight, I'm off to Atlanta for a long weekend starting Friday.
Pace.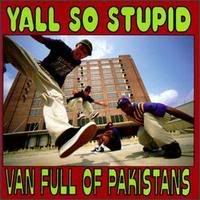 01 - Introduce Me
02 - 85 South
03 - Interlude
04 - Van Full Of Pakistans
05 - Interlude
06 - Bowl Of Soul
07 - Interlude
08 - The Plant
09 - Interlude
10 - Bootleg Beatdown
11 - Interlude
12 - Family Tree
13 - Dirt Road White Girl
14 - Interlude
15 - Monkey Off My Back
16 - Interlude
17 - Super Nigga
18 - Yall
19 - On And On
20 - Interlude
21 - You Wouldn't Understand
22 - 85 South (Remix)

The volume is way low but I had never seen it.