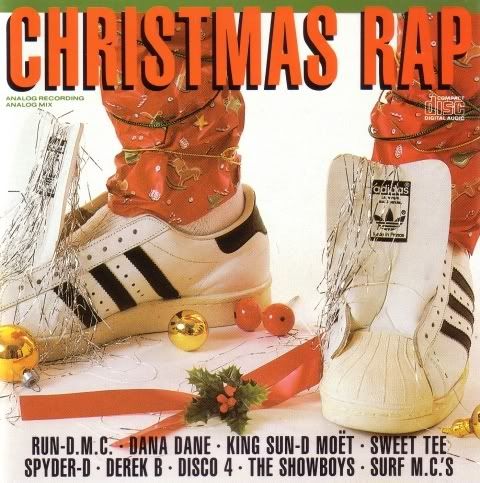 Next up, we got the "Enhanced version" (I say enhanced because I added a bunch of tracks and switched the order and it makes me feel regal) of
Christmas Rap
. I had this tape and loved it. Of course Christmas in Hollis is a classic, but there were some other greats on it too. Sweet Tee's "Let The Jingle Bells Rock" was good. Dane told another goofy story in a goofy accent. King Sun brought a depressing story of Christmas in the ghetto when "ghetto" wasn't synonymous with "cool". I added "Santa's Rap" from the Treacherous Three. I put the single and the version from the movie (Beat Street). There's a slight difference but I just loved the track and redundancy makes me feel good. Also, redundancy makes me feel good. I felt like this was the one and only Hip Hop Christmas release that wasn't completely wacky. It seems that Luke's Christmas and Afro Man's 40oz Christmas and the Dipset one were all more interested in being shitty then feeling good. Granted King Sun and Spyder D were not happy but, and maybe this was 14-year-old naiveté, but I felt like this release was fun and not mean. Whatever. You can draw your own conclusions. Enjoy.
Pace.
01 - Run DMC - Christmas In Hollis
02 - Sweet Tee - Let The Jingle Bells Rock
03 - Dana Dane - Is Coming To Town
04 - Treacherous Three - Santa's Rap
05 - Derek B - Chillin' With Santa
06 - Spyder D - Ghetto Santa
07 - King Sun - Christmas In The City
08 - The Showboys - That's What I Want For Christmas
09 - Coldcut - Christmas Break
10 - Audio Two - Christmas Rhymin'
11 - Kurtis Blow - Christmas Rappin'
12 - Disco Four - He's Santa Clause
13 - Lightning Rich - Santa's Groove
14 - Hard Rock - Christmas Bells
15 - Busy Boys - Funky Fresh Christmas
16 - The Rap All-Stars - Last Christmas
17 - Surf M.C.'s - Surf M.C.'s New Year
18 - Treacherous Three - Santa's Rap (Beat Street Mix)

Word!